How would you feel if one of your colleagues brings you "Macaroni" for the lunch??
Well, most of us would be astonished for being provided with such delicious opportunity at workplace – in busy working schedules. But, here, Macaroni is not the topic to discuss, it's the environment, culture, and behaviors that can be molded by joint meals among colleagues.
As Aristotle said "By nature human is a social animal". We, the humans, always like to make contacts, share and care. So during informal meetings at lunch it can be expected that everyone will share his ideas, thoughts, problems, issues, and potential solutions for the discussed issues. Alongside, personal discussions, many of the members will discuss their work related issues. If someone is facing some issue regarding his task, and he needs any type of assistance this informal gathering will provide him with the opportunity to ask for suggestions and recommendations from his group members as well as his seniors.
In a recent report by Discovery Surveys Inc. stated that "mostly in healthy organizations employees eat together. By eating together they feel close to each other and there is a strong family-feeling in the organization". In todays' competitive environment of the industries it is necessary to work in teams to cope with the market leaders. And the eating together induces the team spirit in the members of the organization.
The joint meals will have following positive effects on the employees and hence their work performance;
Boost the morale of the members of the organization
Provide the opportunity for the juniors to share their ideas and issues with seniors in an informal gathering
Joint meals have the capacity to create and improve team spirit among the members of the organization
Not only sharing and caring, this can be used as a fresher and motivator for the organizational members.
Enhance the loyalty to the organization by providing environment where members of the organization have social bonds, share their problems and enjoy their successes.
Ways for organization to manage "Joint Meals"
To draw valuable outcomes from the joint meals any organization can offer this in number of ways. One way as many organizations worldwide use is to give honorary, monthly performance dinners, annual dinner and seaside meals.
The organization can offer daily meals to its employees, although this is costly but this cost will turn into an investment in long run. This offer shall also minimize the efforts and time taking by the employees to prepare for meals during the break and shall reduce the time spent on this event, instead they will have more time to sit with each other and can share knowledge and information.
At the end of the day, it totally depends upon each organization how they arrange lunch gatherings (informal or formal) for their employees, to increase the chances of employees' learning and sharing because ultimately, it will benefit the organization. But, in my point of view, every organization/company should adopt this trend of having lunch together so that their employees can understand and adjust well together.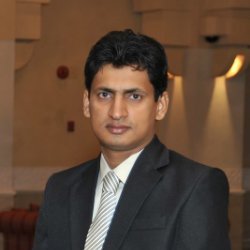 A young scholar and researcher, Ahsan Ali is a committed HR professional and trainer at Cogilent Solutions (Pvt.)